Zumindest hätte ich jetzt Lust diese Meeresfrüchte zu essen, wenn die im Kühlschrank wären. Aber nein, tun sie leider nicht, aber zumindest hängt von nun an eins an meinem Handy.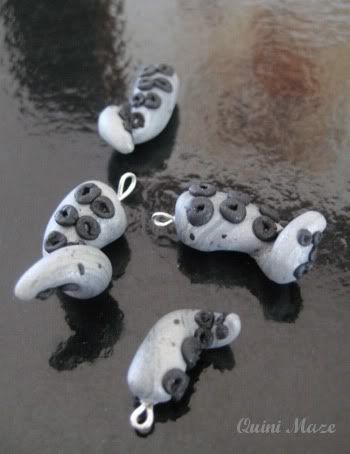 - Das Grau ist eigentl ein Tick dunkler -
Sie waren recht einfach zu machen und Fimo (Metallic&Black) und Ösen habe ich genug da. Also schnell dran gesetzt, geknetet, gerollt und geformt - backen und fertig. Fimo ist schon ein nettes Spielzeug, solange es nicht zu komplex oder filigran wird.
Und warum Tentakel?
Keine Ahnung, fand ich nett und lustig und einfach zu machen. (Sie schmecken wirklich sehr lecker, wenn richtig zubereitet, insbesondere von Oktopus.)
- Say hello to glasspresent, tentacle and onigiri -
Das Onigiri ist so grau und dreckig, weil schon älter.