Ja ... ich lebe noch, aber mein Leben geht recht schnell weiter und ich komme noch kaum hinterher.
In diesem Monat werde ich wahrscheinl nicht allzu viel posten können, weil ich viel unterwegs sein werde... oder gerade deshalb sehr viel posten kann mit einem gewissen Zeitverzug. Mal sehen....
Also was steht an?
Dieses WE ist Hafengeburtstag in HH und ich werde es mir antun und am Samstag dort aufschlagen. Mal schauen, wie oft ich von meist größeren Menschen zusammengedrückt werde.
Dann ist das WE darauf die
Chisaii Con
in HH (18.-20.Mai) und ich werde dort zum zweiten Mal mein Lolita-Näh Workshop halten, den es schon letzten Herbst auf der NiSa-Con in Braunschweig gab.
Wenn ihr Lust habt mich dort zu treffen, ich bin an folgenden Terminen zu sehen/hören.
Samstag: 16:30 - 18:00
Sonntag: 13:00 - 14:30
Angaben ohne Gewähr, das könnte sich noch ändern. Wo genau weiß ich leider auch noch nicht, das erfahre ich wahrscheinl vor Ort.
Es wird ein theoretisches Panel werden, was speziell für Anfänger gerichtet ist. Ein Rund-Um-Einblick für die Leute, die noch gar keine Ahnung davon haben.
Eine gewissen Anteil meines Panels fließt in meine Serie "Lolita Seamstress" rein, wovon ich den
ersten Teil
schon veröffentlicht habe. (Teil II steht noch in den Sternen, sorry.)
Darauf das WE werde ich wieder NRW einen Besuch abstatten und wie letztes Jahr als
Dunkelsüß
Stand-Mitglied auf der
Dokomi
(26.-27.Mai) arbeiten. Das wird hoffentl ganz interessant mit der neuen Location und ich freue mich sehr altbekannte Gesichter wiederzutreffen!
Eigentl war auch das nächste WE verplant, nämlich der Japantag in Düsseldorf (again). Aber das wurde mir doch zu bunt (und andere Faktoren) und habe es gestrichen. (Wäre ja auch schon im Juni gewesen.)
Vllt sieht man sich auf irgendeins der genannten Events, wobei ich das beim Hafengeburtstag am wenigsten rechne. xD
BTW... my next entry of the 100 Questions Meme. Have fun and sorry for every mistake in english. ;.;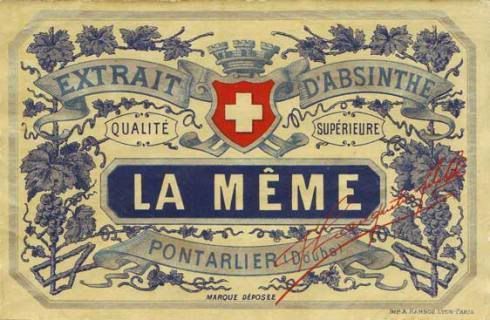 21. What are your hobbies?
My biggest hobby is sewing. I like it to create my own clothes and being creative in my own style. Furthermore I don't particular have something special in my free time. But maybe my editorial work on Dunkelsuess can be called Hobby too?
22. If you have any favourite perfumes, please tell us.
Lolita Lempicka Fleur defendue is my all time favorite! For the everyday life there is Vintage by Kate Moss and Amor Amor by Cacharel.
23. Do you take special care while wearing Lolita clothes?
Well .. I think I don't. I'm usually always carefully with my clothes and I don't take any special actions.
24. What places do you like visit wearing Lolita clothes?
I never thought that Lolita only belongs to special places. If I want to dress up and visit a place, then I simply do it. But I always have the TPO rule in my mind: Time, Place and Occasion.
And never walk to far places in Lolita, you will regret it later. xD
25. How many times a week do you dress lolita?
Oh .. I have to confess, I don't dress in a daily routine. At the high point it is every weekend in the month. I don't have the motivation and the occasion to dress it so frequently.
26. Tell us a funny story of you Lolita related:
I was on my way to cologne, going to a meet up, and I was standing in the train with my highest shoes I have. There was a couple as well in the hallway and they were speaking in their mother language arguing about my hight without those shoes. Unfortunaley I understand them and laughed underhand about this situation. (Afterall they guessed my right hight.)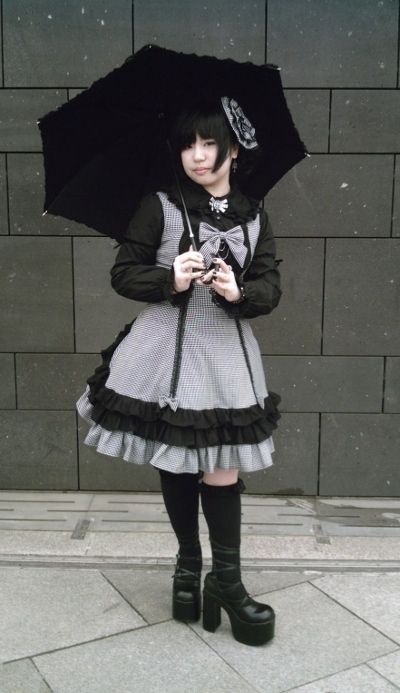 - It was about this outfit/shoes (2008). -
27. What is your current hairstyle and colour?
Asymmetric bangs, Hime Cut on the side and long hair in the back. I have this style for years and I still like it this way. I'm too lazy right now to take a picture for you.
28. What is your lolita history?
In the past I was more into the Visual Kei szene and attended my local meet up. There was a bring-and-buy stand and I found a gothic lolita bible at this stand. It might be love at first sight because I bought it immediately and shortly after I sewed my first oufit, inspired by Moitie.
29. Do you store your clothes in a special place?
I have two wardrobes, one is for my daily life clothes and the other one is for Lolita. And of course my Lolita closet is bigger than the other one.
30. Did you ever think leave Lolita? Why?
Until now ... never! I'm wearing Lolita occasionally, so I'm never feed up with this style.