Das habe ich beim Durchklicken bei Dailymotion gefunden: Eine Akustikversion von
I love you
by
2ne1
.
I love you
ist die aktuellste Single von ihnen, wenn ich mich nicht ganz täusche. Die
Radioversion
mag ich allerdings nicht so gern. Der ganze Elektro-Beat hätte ruhig geringer ausfallen können, wobei ich aber den langsamen Part von Minzy sehr mag (siehe Anfang des Liedes).
Die Akustikversion finde ich dagegen auf der gesamten Länge sehr toll und der Gitarrist ist auch super!
Ein paar kleine Kurz-Infos für diejenigen, die sie nicht kennen.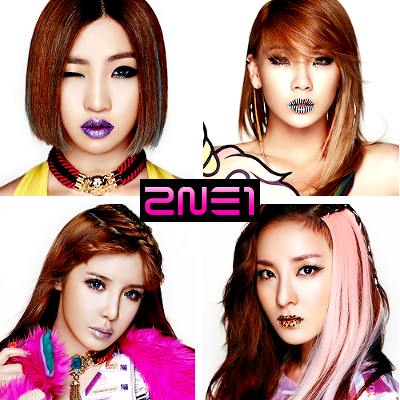 - Minzy, CL, Bom, Dara -
2ne1 (sprich Twenty one oder To anyone) sind eine vierköpfige Frauenband mit CL, Minzy, Dara und Bom, stammen aus Südkorea und stehen dort unter dem Label YG Entertainment. Ihre Musikrichtung ist mehr ein Mischmasch aus Hiphop, Pop, RnB und Electro-Pop (ich bin kein Experte und es ist nur meine laienhafte Einstufung).
Sie sind die einzige Frauenband aus Korea, die ich mir gerne anhöre (es gibt immer wieder Ausnahmen) und sehr vieles von ihnen mag. Mir gefällt nicht dieses zuckersüße Arschwackel-Sexy-Image, wie viele der koreanischen Frauenbands pflegen. Von daher finde ich 2ne1 auch so toll, sie sind einfach "derber" und für mich zumindest authentischer (wirkend). Außerdem machen sie wirklich tolle Partymucke, kennen gelernt habe ich sie nämlich erst durch die I AM THE BEST Single.
Modetechnisch sind sie auch sehr interessant, wenn sie zumindest nicht die Sport-Adidas Schiene austragen.